TemplarsNow starts a new series:
Templars in Art
.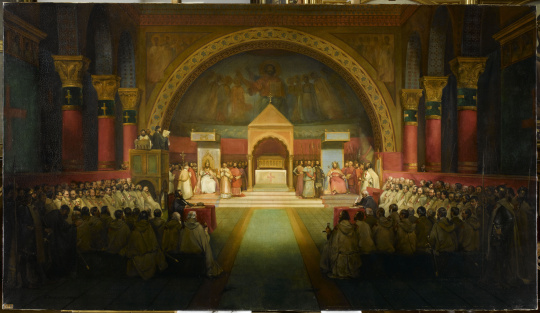 The first piece is from François-Marius Granet (1775-1849), who in 1844 painted the "Chapitre de l'Orde du Temple" (Chapter of the Order of the Temple), said to have taken place in Paris on 22 April 1147.
Every five years, the Chapter of the Templar Order convened, bringing
together the high dignitaries of the order. They debated political questions and decided acts which engaged the order. It was also the internal court of appeal that dealt with serious disciplinary problems.
On April 27, 1147, eight days after Easter, a general chapter of the Order of the Temple in France was gathered in the Commandery of the Temple of Paris. Before Pope Eugene III, the King of France, Louis VII, and many prelates, the Knights Templar and their master Evrard des Barrès engaged for the first time for the second Crusade. At this meeting Pope Eugene III granted the Templars the right to wear a red cross on their white coat.
The painting is kept at the Versaille Palace, France. Photo (C) RMN-Grand Palais (Château de Versailles) / Gérard Blot. Published with permission under the rules of T&C of rmngp.fr Text inspired by Wikipedia.